Chris Healy
The Providence East Side
REALTOR font>


Homebuyer Client References

Meet some of my wonderful clients who recently purchased homes . . . .

Most of my buyer clients relocate to Providence from out of town and usually begin their home search on the internet. Many find and use my website, then contact me for help - - maybe for an opinion on a particular property, or to get my recommendation on neighborhoods or property values. I am happy to help and make myself available to educate them on the particulars of the Providence real estate market and what may be different about buying a home here. First-time homebuyers particularly appreciate that I guide them through and manage the entire process. This removes much of the stress of dealing with unknowns, and helps make buying a home an enjoyable experience.

The present Seller's Market makes buying a home difficult. There are many more buyers then there are homes For Sale. This dynamic is driving prices higher as buyers compete for homes. Good newly listed homes for sale, often sell within days. I've developed strategies for crafting offers that get the attention of Sellers. My clients often win out even in multiple offer, bidding situations.

Meet some of my buyer clients. They were all where you may be right now - - thinking about buying a home in the Providence area. We worked together to successfully find the best homes and then purchased them at good, fair prices. Most now live in Providence, many on the East Side in the neighborhoods near Brown University. They have given me permission to share their experiences.

Samantha and Derek
Came here from MIT in Cambridge when they found themselves priced out of the Boston real estate market. These first time homebuyers were able to afford this wonderful single family home on the East Side of Providence. We were even able to buy at a great price.

Nathan & Sally
Relocated from Charlottesville, Virginia
Nathan enrolled in a PhD program in Architectural History at Brown University/RISD. Sally is a graphic designer. They were first-time homebuyers when I helped them purchase this home in the Fox Point neighborhood, just a short walk to both campuses. Nathan described this beautiful and historically interesting walk as, "walking through Candyland". When done with his studies, I sold their home, making them a very nice profit. Good for them!






Nancy & Fred
Empty nesters relocated from suburban Massachussets wanting a more adult-centereed, urban lifestyle.

"Chris helped us find and then buy our East Side home when we had very limited knowledge of the market. He helped us with all aspects of the process, maybe most importantly how to structure our bid in this very competitive time. Super happy with our purchase!"
Theresa and Aneece
I helped this couple relocate from New York City. They purchased this newly renovated condo on College Hill. Theresa is on the faculty at Brown Univ., Aneece is a freelance writer. They now have a beautiful son who I often see exploring town with his father.




R. Yang
RISD Grad Student - Interior Architecture

"My family and I worked with Chris when we bought our condo in 2019 and when we sold it three years later. He is one of the most genuine and positive agents in the area who listens to your every need and concern. Incredibly attentive, communicative, and meticulous in nature, he truly provided a human touch to the whole experience. For young buyers, he will walk you through the ins and outs of the real estate process and ensure that you understand each and every step along the way. We 100% recommend Chris Healy for those buying or selling their property!"
David and Dan
David relocated from Harvard University to Brown to become Interim Director of the Watson Institute for International Studies. Dan is an attorney and faculty in International Studies. I helped them purchase this wonderful home that is just a short walk to the University.

Molly & Joe
First-time homebuyers, Molly and Joe were renting in Providence. They bought a condo in the Fox Point neighborhood to accommodate their growing family. They love their private yard and the walkability of the neighborhood. Joe is a Biochemist and Molly is a pharmacist.
Pam H.
A happy first-time homebuyer at her closing. Followed COVID-19 protocols to keep everyone safe. Her new home came with pets - - the birdsnest on the front porch.


Lisa and Tom
Relocated from suburban Connecticut. These empty nesters graduated from Brown and never forgot what a wonderful small city Providence was. They returned and bought this charming home on College Hill.

"We worked with Chris Healy for over a year to find a new home. He was very flexible and accommodating of our scheduling needs. He knew the market very well and we really appreciated his candor about different properties. He has a great sense of humor and is really a pleasure to work with. When it came to some challenges during final negotiations, Chris was very calm, professional and he had strategies that helped us secure the sale. We highly recommend him."
Frank & Arlene
Downsized from an oceanfront home in Massachusetts to this contemporary city home on the East Side of Providence. I helped them find this house which wouldn't require much work other than cosmetic. Frank owns a television production company and Arlene is a professional fiber artist.



Laura and Remo
This couple relocated from Yale to Brown. They are both medical doctors. I helped them find a newly renovated condominium that's conveniently located between RI and Miriam Hospitals. Update: Careers have pulled this couple to Delaware, so I sold their condo to a couple from the Midwest whose grown son and grandchild live in Providence.

"Chris helped my wife and I buy and then sell our Providence property a number of years ago. His knowledge of the market dynamics and neighborhood trends was invaluable for a couple who knew little about Providence prior to our professional move. He continued to stay in touch with us over the 5 years we called Providence home and was always helpful in all things RI. Of all the realtors I have dealt with, he has been the best resource and most effective one I have worked with. I highly recommend him."





Ms Pang
Ms Pang came from Johns Hopkins to Brown to pursue a PhD. I helped her find an affordable, but very nice condominium close to campus.

"Chris helped me buy my first condo when I first started graduate school. He gave sound advice and tolerated all my questions and pushiness with patience and calm. He guided me through all the paperwork, and referred me to a reliable lawyer and an excellent contractor to do limited renovations in a very timely fashion. This apartment was my source of refuge through my years in graduate school. I was able to rent it out even after I graduated and moved away from Providence. When I was ready to settle down in my new home city, Chris helped me sell the Providence apartment. It was during the pandemic, I could not be in town, but needed a relatively quick sale because I was hoping to put in a down payment for an apartment in my current city. Chris was extremely responsive and timely in all our correspondences. He listed my apartment, showed it, and screened potential buyers for me. As with my purchase, Chris made the transaction smooth and painless. I find him an honest and reliable professional, and highly recommend him!"
Diego & Alicia
Diego is an architect and Alicia is an artist. They are originally from Columbia. Alicia hired me to sell their townhouse condominium on the East Side and buy a home nearby. They wanted a larger kitchen, more room for her studio and a fenced yard for their black lab.





Barbara & Tom
Relocated from Scarsdale, NY
This retired couple wanted to downsize and be closer to their summer home in Westport, MA. I helped them purchase this historic home on Benefit Street, just a few doors down from a home I used to own. They appreciated my advice based on first-hand knowledge of the location. From their new home, they can walk to just about everything.



Kip, Judith and Paige
This family found my website and reached out to me. They were living in Pasadena and retiring the following year. Their plan was to relocate East to be closer to their daughter Paige, who was graduating from NYU and settling in NYC. They had never been to Providence and their first visit here was during a blizzard! They were able to see past the snow drifts and liked what they saw. Kip had worked at UCLA and Judith, Cal Tech, so they felt at home in a sophisticated college town environment. They sold their California home, put their stuff in storage and moved into the Biltmore Hotel in downtown Providence. They waited for the perfect house to come on the market. It did, and we got it, and at a very good price! Their new home is in Wayland Square where they enjoy being able to walk to everything.

"Chris Healy is a first-rate professional who did a splendid job as our realtor. We were relocating from the West Coast and he was extremely helpful in this arduous endeavor. He showed us property on two visits before our move, exhibiting much local knowledge and really listening attentively to our needs. Once we arrived in Providence permanently, he patiently and courteously assisted us to become even more familiar with various neighborhoods on the East Side by showing us homes that interested us as they became available on the market. We soon found a beautiful home that was a great fit for us -- and we are very grateful to Chris for all that he did to facilitate a smooth closing. Thanks so much to Chris for his excellent service -- we would highly recommend him to anyone who is looking to buy or sell a home. He is an absolutely outstanding realtor!"









Jodi & Dario
Relocated from Miami and VT
I first worked with Jodi and Dario when they were new medical residents, as well as newlyweds and first-time homebuyers. They bought a condo on the East Side, close to the hospitals and right across the street from where I now live. Careers pulled them away from RI, so they hired me to sell their condo. Update: They're back! Just helped them buy this East Side home which will better accommodate their growing family.

"We have used Chris to buy two properties and highly recommend him! He was so helpful when we first moved to Providence in helping us understand the area and working with us to find what was right for us. As our family has grown, he helped us again and we are thrilled with our current home!"
Jen
Jen is a Family Medicine Resident. She was a first-time homebuyer and bought a condominium within a quick commute to Rhode Island Hospital. I enjoy working with first-time homebuyers like Jen.




Jeanette and Arnold
Before buying this home in the Blackstone neighborhood, these medical doctors and first-time homebuyers were renting at Waterplace, a highrise downtown. At the time they bought, there were few homes of this quality on the market. In fact, this house had multiple offers from potential buyers -- one offer was from Arnold's boss. I helped them avoid overpaying, while still winning this house. Arnold's boss was gracious. It pays to have the better buyer's agent working on your behalf.




Loy and Tom

"We were drawn to Chris because of his love of old houses & his participation in preserving vintage architecture in Providence. Since we wanted to purchase an older home with authentic character, we wanted an agent who shared our love for such and was experienced in the pros & cons.

Upon finding such a house (1890 Victorian), Chris guided us ably through the purchasing process. He was completely on the same page with us re: our aesthetics and space needs. He spoke our language.

We got the house, all went very smoothly & timely. And we felt we had made a good friend in Chris, who also lives in the neighborhood in a wonderfully restored vintage house.

We have now been in the house 2+ years and pinch ourselves every day that we live here!

Thanks Chris!

Loy Whitman & Tom Lane"

Anthony
Anthony is a philosophy professor at Providence College. He chose downtown living at Providence Residences for the amenities and convenience and city views. Anthony made a very smart purchase that has, in a short time, substantially appreciated in value. Well done!

"We're thrilled with the home we've found, and could never have gone through the process so smoothly without your guidance and reassurances. Your concern has truly been above and beyond your job as a realtor, and leads me to think of you much more like a friend. With Gratitude, Anthony"

Elliott & Hamideh
These happy first-time homebuyers set a $100,000 price cap. Elliott hangs art at a museum by day and is a musician by night. Hamideh is a bench jeweler with ambitions to create her own jewelry line. They want to keep their monthly housing cost low so that they can continue saving for their bigger dream of creating a large live/work studio, perhaps from a converted firehouse or factory. I enjoy helping people achieve their goals and dreams. We did it!








$3+ Million private sale
Chris plays matchmaker: It takes special skills to orchestrate and negotiate the sale of a property that is not even on the market! This is especially true when the seller doesn't need to sell, and the buyer doesn't need to buy. In this case though, I saw the perfect match. What began by me knocking on the homeowner's door, ended in one of the largest ever residential sales in Providence.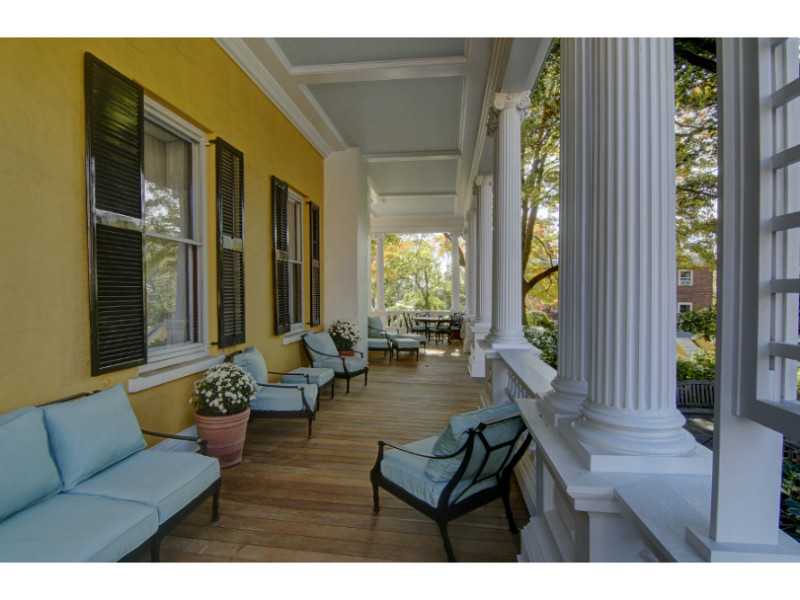 Michael and Kate
Relocated from Syracuse and are now faculty at Brown. In Syracuse they owned a home built in the 1970s and in a typical suburban neighborhood. In Providence they went for a daring change, purchasing a historic home in the Fox Point neighborhood on the East Side. They are enjoying the experience of their "new" home and love being able to walk to their offices.
Jack C., MD
Medical Resident

College Hill condo with city views!

"Chris helped me buy my home in 2010, and eight years later I sought his help in selling it. He eagerly tends to all aspects of the sale (from mundane repairs to masterful negotiation), and the whole process could not have been smoother. He is friendly, responsible, attentive, knowledgeable, and enthusiastic. I highly recommend Chris!"

Richard & Kristie
Relocated from Signal Mountain, TN
They needed a large home for their large family. They also wanted to live in an urban setting like the East Side. Richard liked the short commute to work in the suburbs where he is the Marketing VP at an international fashion eyewear firm.





Nitin & Sherilyn
Relocated from Columbus, Ohio so Nitin could teach engineering at Brown. I helped them find and purchase this single family home, with two-car garage and on a double-size lot, in the compact College Hill neighborhood. This gave Nitin the house he wanted, along with a short walk to work!
Rashelle & Chris
Relocated from Massachusetts
When Rashelle found my website, she and Chris were newlyweds and first-time homebuyers. They thoroughly checked out the suburbs before deciding to live on the East Side of Providence. The first house they made an offer on, had hidden termite damage that my inspector found. We walked (ran) away and found a better house and negotiated a better price. Rashelle is a psychologist and Chris is a medical doctor. I've enjoyed helping them and watching them raise their two young sons.

"...We owe it all to your expertice, patience, sense of humor, and commitment to us. We are so grateful and thank you for all that you did. You went beyond what was necessary and we were lucky to do this process with you.
Sincerely, Chris & Rashelle"


Susana and Kevin
These busy professionals bought a home on a quiet street in the Blackstone neighborhood. They wanted a private fenced yard, garage and a home in move-in condition. They got it, and at a good price!

"My wife and I have had the pleasure of working with Chris over the course of several years, on three different transactions (buy/sell/buy). We first hired Chris when we wanted to move to the East Side, which turned out to be a great decision because he has a "wealth of East Side knowledge". When we wanted to sell five years later, we wanted no one but Chris to help us. And because of Chris, our house sold in less than 24 hours. We then used him again to purchase our next home. During many months of working with Chris, he was patient, thoughtful, knowledgeable, and most importantly, he cared about what we wanted. He took the time to get to know us so he could be responsive to our needs. I am highly recommending Chris to anyone looking to buy or sell a property (especially on the East Side)!"
Kate and Casey
Relocated from the West Coast and were first-time homebuyers. Kate worked for CVS, at their Corporate Headquarters. Casey is a yacht broker. Casey says, "Buying a house is not unlike buying a pre-owned yacht. It really helps to have a professional on your side. That's why I chose to work with Chris Healy as my trusted real estate adviser." When Casey's sister moved to Providence to complete her medical residency, I helped her buy a great condo at Eastside Commons. Thanks for the referral Casey! Update: Kate and Casey have moved to be closer to the water. They made a profit when I sold their home.



John & April
This couple and their son relocated from Vermont. I helped them find this condo on College Hill, ideal for its proximity to Moses Brown School and walkable, college town feel. John is a preservation architect, Renaissance Man and lots of fun to be around. Working with them was truly my pleasure!

"We thoroughly enjoyed working with Chris! He's so knowledgeable about the area, very experienced and responsive. I wouldn't hesitate to work with Chris again. I highly recommend him as a real estate professional!"
Jinpin Yao & Cen Yang
Relocated from Maryland
Originally from China, Dr. Yao is with Purdue Pharma L.P. and Cen Yang is a concert pianist. They have two children and I helped them purchase this large, newly built home in the Providence suburbs.




Julia
Julia is an emergency room doctor and was a first-time homebuyer. Julia was not working with a buyer's agent when she met me at a real estate Open House. She liked that I was not "pushy". She told me that is why she contacted me for advice on a townhouse condominium that she was considering buying. I expressed reservations, because the condo's driveway was not properly approved by the City. What was explained to her as "no problem" by the seller's agent, could indeed be a big problem for Julia if she ever decided to resell. We kept looking and found this wonderful single family home on a corner lot in the Blackstone neighborhood.
Kiri and James
First-time homebuyers, Keri and James purchased a loft-style condo on the East Side of Providence. Kiri is an Assistant Professor of Music at Brown University and James is the Business Manager for Rhode Island Public Radio. They choose not to own a car, so bike and walk everywhere. They have since had me represent them in the purchase a single family home on the Est Side, where they keep egg laying chickens (that's probably not what they're called!) They have kept the condo as a long-term investment property and have found it easy to get good tenants. Kiri and James have also given me some great client referrals. Thank you!





Aaron
Aaron is a medical doctor. I helped him have a new home built in Barrington. Aaron wanted a new home that was near the water and town center. He got it all!
Kate & Kris
This couple was renting in the Boston area because they were priced out of home ownership there. They decided to buy in Providence for its affordability, reasonable commuting distance and proximity to the bay for sailing. They purchase a three family home on the East Side.

"Chris Healy helped us buy our first home in the East Side of Providence in 2018 and a multifamily investment property in East Side in 2021. Both times we couldn't have asked more of him as a buyer's agent. We benefitted greatly of his knowledge and insights of the East Side where he also resides. His best qualities are his experience, his ability to listen and provide expertise. He did a very good job representing us in all phases of buying. In 2021, Chris was instrumental in helping us craft a winning bid for a multi-family investment property despite the very hot market. Both times it was a pleasure working with Chris and we'd gladly work with him again."
Sandra & Andres
Sandra is a Lecturer in the Chemistry Department at Brown and Andres is a Psychiatrist. Their primary residence is on Cape Cod. They purchased an East Side condo as a convenient second home for when Sandra doesn't want to drive to the Cape after a long day of lecturing. Update: Their son is now attending graduate school at Brown, so the condo is now being used full time.




Bruce and Leslie
Bruce and Leslie relocated from an oceanfront home in Newport, RI to the East Side of Providence for a more urban lifestyle while still being close to the ocean for sailing. They purchased a historic home in walkable Fox Point. Bruce is a retired insurance and banking executive and Leslie is a practicing psychoanalyst. They love to entertain and throw a great party!

Michael
Michael is a Web Development Manager who downsized to a condominium. He hired me to represent him -- first for the sale, then the purchase. I sold his home for full price and then negotiated a good price for his new condo. Update: The lady who bought Michael's condo, hired me to sell it for her. I think this is a great compliment coming from someone from the other side of the negotiating table!

Cristian

"Chris Healy was fundamental in the successful conclusion of our Real Estate transaction, between mid-March and early June, 2016. Chris represented us in the purchase of a condo in Providence (RI). We are grateful for his knowledge of all aspects of the process, his responsiveness, his thoughtful guidance, his suggestions and his steady hand when the process encountered unexpected difficulties. Chris is also a gentleman, and a pleasure to deal with. I would wholeheartedly recommend anyone in search of thoughtful representation to contact Chris Healy at once."
Donna
Donna is an elementary school teacher. I sold her home in Lincoln. She was referred to me by her financial adviser who also represents another of my clients who was pleased with the results I delivered. I still do not know who this referring client was, but, Thank You!





Zuhair and Rubina
These newlyweds relocated to Providence and are first time homebuyers. Zuhair is a medical resident and Rubina is a pharmacist. They bought a newly built condo on the West Side of Providence with plans to hold onto it as a long-term investment property.
Grant & Christine
Relocated from NYC and Yale University
Both were pursuing advanced degrees at Brown University. They purchased an affordable, two-bedroom condominium right near Brown University and downtown. They live in a perfect location for walking to everything.









Marc & Rachel
Relocated from Baltimore. Marc is a tax attorney and Rachel manages their homelife and four children. They purchased a home that is walkable to temple and school. The house needed no work, which was a big plus for this busy family. Marc took a chance and bought this house "sight unseen" by Rachel, who was still living in Baltimore with the family. She loved the house when she saw it for the first time on the day of the closing! Well done, Marc!
Dow
Dow is a past Olympic skier from Aspen, CO and Cayman Islands. When he attended Brown University, I helped him buy this large fixer-upper home as his first real estate investment. It is a convenient one block to campus. When Dow finished his degree, he hired me to sell the house. I found a cash buyer from China. Dow made a six-figure profit.

Making it happen
This seller client is an Intellectual Property and M&A attorney who had already relocated to the west coast. He asked me to sell his two-bedroom condo in Wayland Square. Although the condo was under agreement within days, and for more than list price, the transaction had some curves and hurdles that needed to be carefully managed. After closing on time, I was very happy to receive this complement from my seller.

"Thank you for handling the closing and everything else about this transaction with efficiency, energy and the utmost professionalism. With best regards, SB"

Tom and Tarra
These first-time homebuyers and newlyweds purchased a condominium just off Benefit Street on College Hill. They enjoyed being able to walk to everything. Tarra was even able to walk to work!




Seth and Lana
I sold this couple's lovely condo on College Hill where they lived while attending graduate school at Brown. They moved to NYC where Seth became headmaster of a charter school and Lana works for ABC News.
Jonathan and Charles
Relocated from Virginia and bought a house on College Hill. The cook's kitchen and vibrant neighborhood sold them!

David & Cristine
Relocated from Little Rock by Johnson & Johnson.
I helped these first-time homebuyers purchase a nice condominium on College Hill. Cristine prefers to live in the City with just a 20 minute commute to her office at CVS Headquarters in the suburbs. David is a sales manager. Many years ago, when I moved to Providence and was not yet a realtor, I considered renting a condo in this building. I didn't know much about the neighborhood, but figured I couldn't go wrong living in a place that was surrounded by mansions! Great location, close to Brown.




Condo Developer
This condo developer asked me to market and sell the luxury condos he built in the Blackstone neighborhood. He liked the way I promoted real estate and the East Side through my website. He is a very good builder and I have since referred restoration contracting work to him. Relationships with good contractors are valuable for Realtors. I'm happy to share my contractor recommendations with clients.

Simon & Lucy
Relocated from Philadelphia
Simon is a geology professor at University of Rhode Island and Lucy is a language specialist. I helped them find and purchase this beautiful home in the Oak Hill neighborhood. I also negotiated a very good price. If they ever sell, I plan to help make them a nice profit.

Valeri
Relocated from MIT to Brown University
Valeri's father purchased a condo for her to use while she completes a doctorate in neuroscience. We found a nice quiet, safe condo that was reasonably priced. I negotiated for the seller to install central A/C at no charge!

Brittney & Yuri
Relocated from Tulane University to Brown
This newlywed couple moved to Providence to complete their PhDs in French Literature. They purchased a condominium a short walk to Brown where they are now faculty.



Betsy
Relocated from Indiana
Betsy is a retired attorney and historian. She moved to Providence to research slave ownership by Quakers. I helped her find and purchase a condominium on the East Side within walking distance of the RI Historical Society Library and the Quaker Meetinghouse. Several times a week, I see Betsy walk by my house as she heads to the Meetinghouse at the end of my street. Betsy really loves it here, so has decided to make Providence her permanent home!

Alix and Marshall
Relocated from UPenn to Providence
I successfully renegotiated a $30,000 price reduction on the home they purchased in Barrington. Alix is an internist and Marshall is a dentist.


<
Len
Stonington, CT
Len purchased a condominium for his daughter who was pursuing a degree in architecture at Rhode Island School of Design. Her condo is just a couple of blocks walk to the Architecture Department.

Mark
Mark is an oral surgeon who's family lives in El Paso, TX. His daughter is attending Brown Medical School. They purchased a condominium at Eastside Commons in Wayland Square. When they sell, I will make them a substantial profit. When buying, reselling is always on my mind. Is this a property that I will want to have to sell? How will the price paid today affect the likelihood of a profitable sale in the future? What is the payback of any improvements that need to be made? It is hard for a buyer to also be focused on future selling. This is one of the benefits of working with me and having me look out for your best interest.

Jane Perez
Jane was a lifelong, local resident who wanted to simplify and downsize. I represented her, in both the sale of her larger single-family home and the purchase of this easy to maintain, East Side condominium.



Jessa and Josh
First-time homebuyers, Jessa and Josh relocated here from Austin, TX. Both are faculty at Brown University. They purchased this wonderfully restored bungalow on the East Side of Providence. Jesse and Josh were refereed to me by a satisfied client! Thank you!

Shawn Kerachsky
Shawn is a condo developer who hired me to sell his new East Side condominium. Shawn became familiar with my professionalism, when I represented a buyer client purchasing one of his condos. Shawn had previously worked with several other prominent local Realtors. He liked what he saw, so hired me.





Cathy
Cathy grew up in Providence where her father taught at Brown. She lived on the west coast for many years, finally in Santa Fe where she retired. She missed New England and Providence so relocated back home. I helped Cathy locate and buy a new construction condo on Federal Hill. Cathy found me through my website and appreciated how well the site presented information about Providence.
Enough about me! It's actually all about you . . . .
Moving to the Providence area? I want to help. Contact Chris
If more convenient, just call me anytime.
My cell number is 401-258-8534